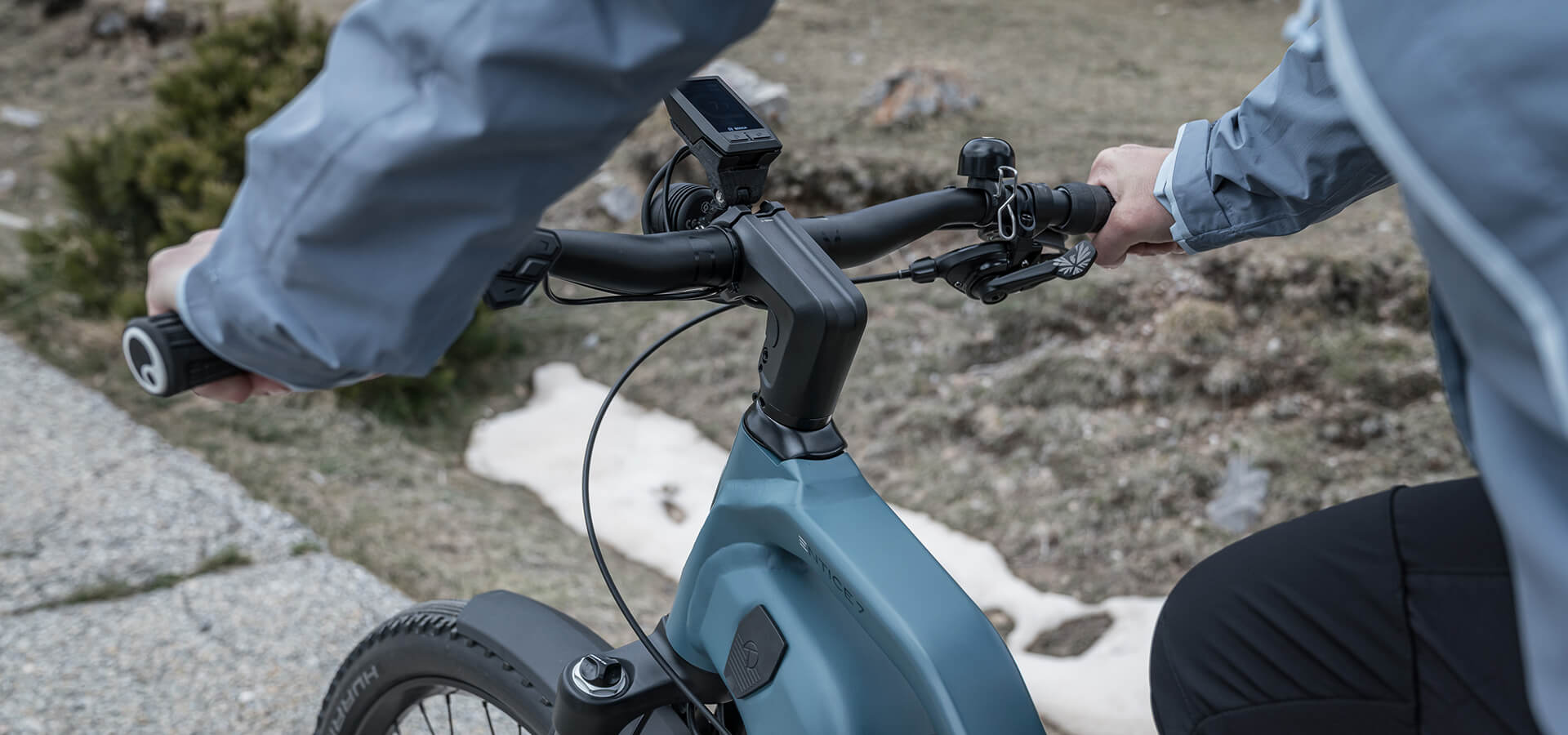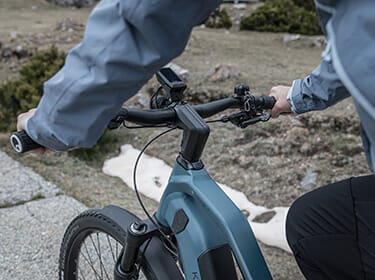 FOR A FANTASTIC RIDE
Across all segments and lines, we also offer you highly varied accessory packages. And this makes it even easier for you to tailor your Kalkhoff e-bike to your personal preferences and needs.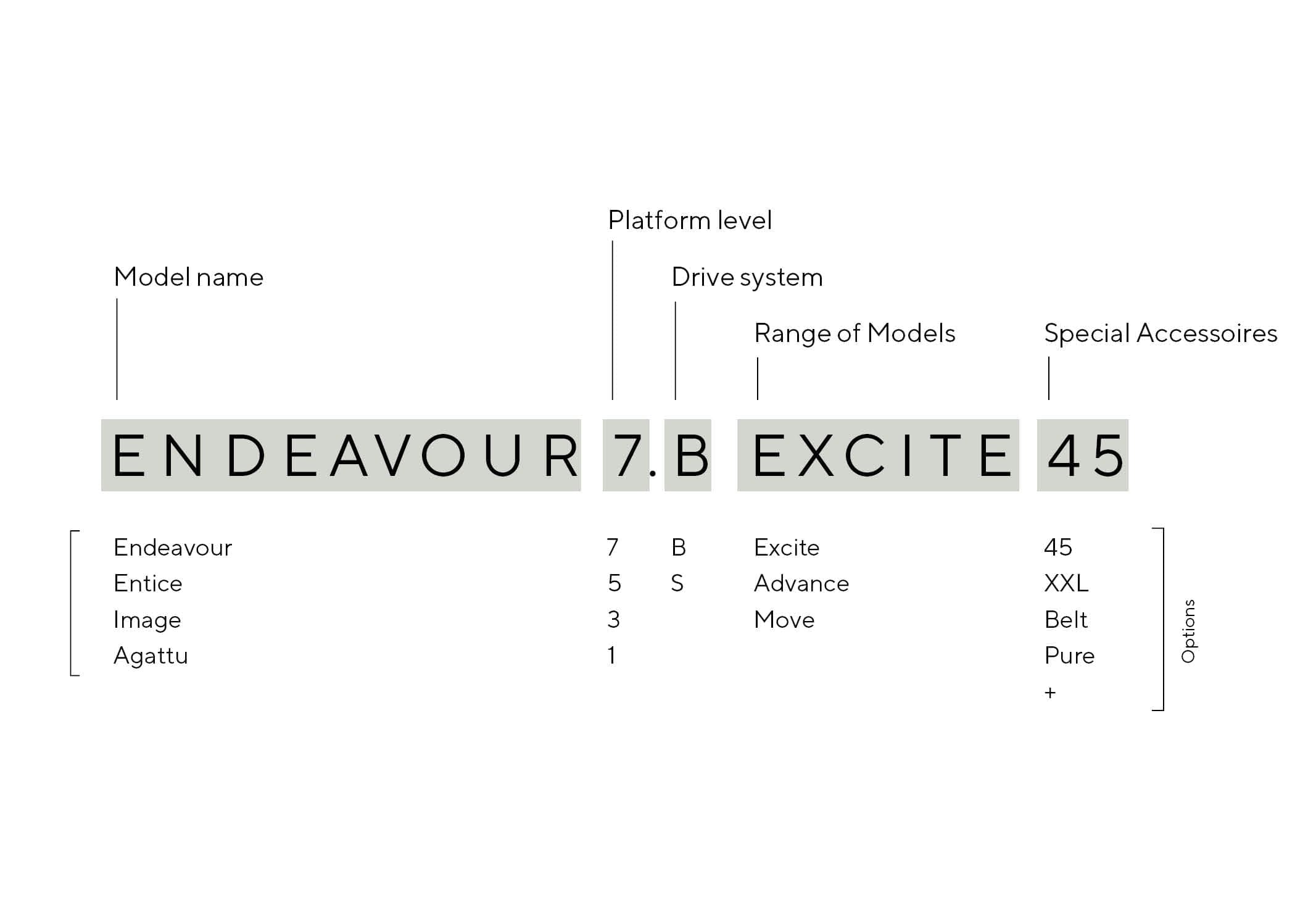 PLATFORM LEVEL
Kalkhoff lets you combine drives, frames, colours and many other components. Our four bike platforms provide cyclists with a fast and intuitive way to find just the e-bike they are looking for.
► Level 7
THE NEW PREMIUM CLASS
Exclusive accessories, maximum comfort and a stylish look. The new top-of-the-range bikes from the Kalkhoff stable offer an inspiring combination of great engineering and clever details. Bikes which make it fun to meet any challenge – whatever the terrain. more
► Level 5
THE PERFECT SYNTHESIS OF FORM AND FUNCTION
An attractively pared-down Kalkhoff look with a battery elegantly integrated into the frame and cables hidden out of sight.
► Level 3
FOCUSING ON THE ESSENTIAL
Great accessories and top quality at an attractive price. Whether with a battery integrated into the frame, like in the Trekking segment, or the extra-low step-through design associated with the City comfort range – these bikes and their contemporary design are always good to go.
► Level 1
A GREAT ENTRY-LEVEL OPTION
The Kalkhoff classic. E-bikes offering first-class functionality and really attractive prices. With an external battery and a neutral, pared-down look.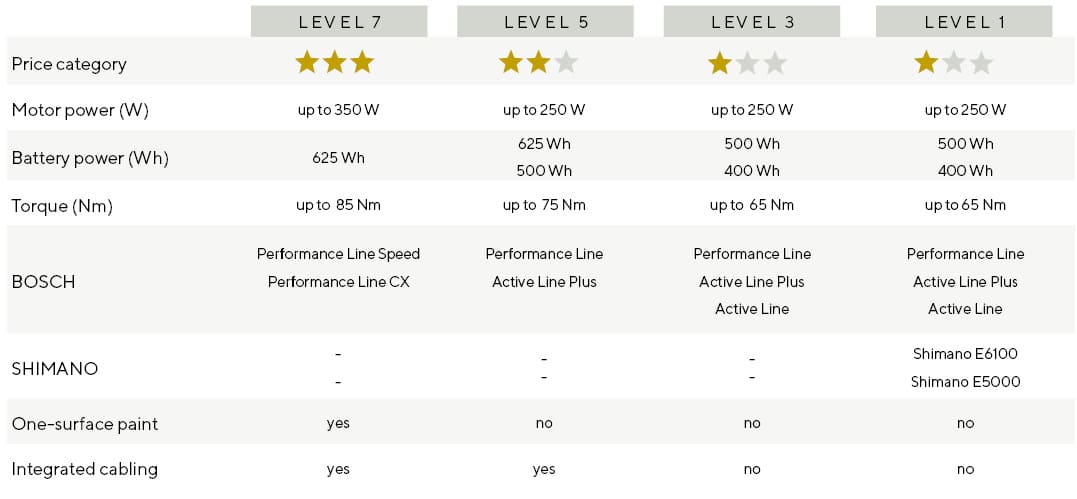 DRIVE SYSTEMS
► B = Bosch
From enduring to high torque, from powerful to supersoft. The Bosch e-bike motors cover the entire spectrum of pedelec riding. The sturdy all-rounders are therefore used by Kalkhoff in both the e-trekking and e-city ranges. The quiet Active and Performance lines, for example, are particularly impressive due to their sensitive ride feel, making them ideal for daily city commutes or leisurely river-bank bike tours. On the other hand, the Performance Line CX is more sporty: Powerful and with an extreme thrust to the front, it is the perfect companion for ambitious off-road e-bike rides. Bosch motors achieve their optimum performance at medium pedalling frequency.
Includes: Bosch Active Line, Bosch Active Line Plus, Bosch Performance Line, Bosch Performance Line CX, Bosch Performance Line Speed
► S = Shimano
E-bike motors for all needs, purposes and tastes: Shimano drives boast an impressively wide range of uses, allowing them to demonstrate their strength in the Kalkhoff range of entry-level bikes as well as in the e-trekking collection. They deliver their best performance at higher pedalling frequencies, making them ideal for those who like it more dynamic. But it is not only ambitious trekkers who will enjoy the Shimano drives; people who switch from classic bicycles to pedelecs will also manage particularly well with these drives due to their maximum performance at higher pedalling frequencies.
Includes: Shimano Steps E5000 series, Shimano Steps E6100 series, Shimano Steps E7000 series, Shimano Steps E8000 series
EQUIPMENT LEVEL
At Kalkhoff, you can combine drives, frames, colours and many other components to create your very own bike. Our three bike platforms provide you with a fast and intuitive way to find just the e-bike you are looking for.
► EXCITE
Excellent accessories with the finest and most exclusive components
► ADVANCE
Excellent price-performance ratio for the most demanding customers
► MOVE
Our solid basic model: perfect for any kind of use
SPECIAL ACCESSORIES
► 45
S-pedelecs for greater speed, with assistance up to 45 km/h – devised for our e-Trekking line.
► XXL
Especially durable frames and components. Can support a total weight of up to 170 kg.
► BELT
Pure riding pleasure without any dirt, squeaking, rust or oily fingers.
► PURE
The stripped-down option. Clean design and a streamlined look to help you cut a stylish figure about town.
► +
More comfort and above all more stability.. Can support a total weight of up to 170 kg.