Electric bicycle
The term electric bicycle is used colloquially as an umbrella term for a variety of bicycles and mopeds powered by an electric motor. There are, however, significant differences among them. These pertain not only the bicycles themselves, but also how they are qualified for purposes of traffic law, insurance, and other legal aspects.
What is an electric bicycle?
Put in the simplest possible terms, an electric bicycle is a bicycle that can be driven by an electric motor. Looking at the salient differences, electric bicycles can be divided into three categories: pedelec, S-pedelec and e-bike. In practice, however, these three categories are not always clearly distinguished, being that in any event, the terms pedelec and e-bike are not clearly defined at all or only vaguely defined for the purposes of the law.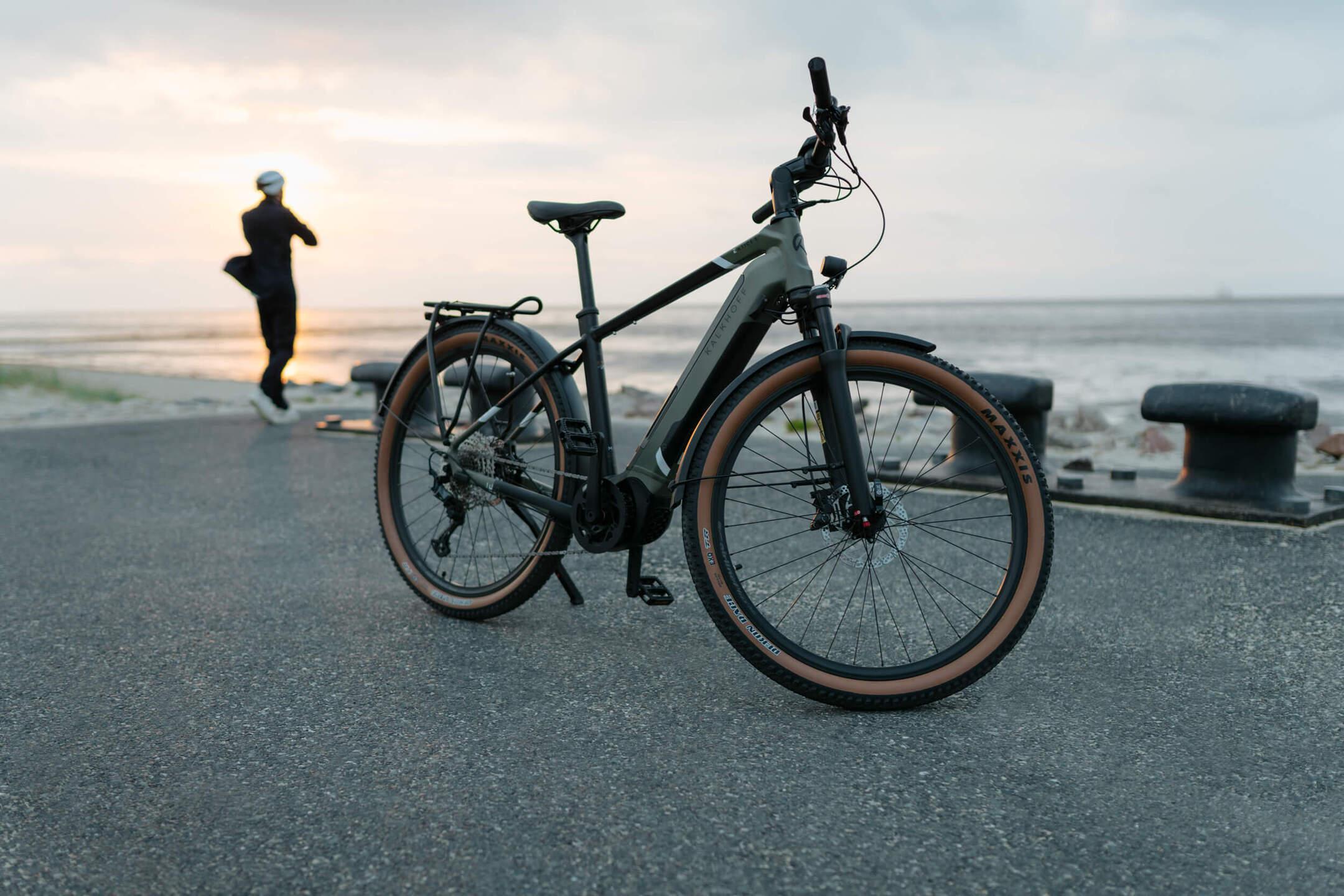 1. Pedelec
The term pedelec is used to describe an electric bicycle that is powered by a combination of muscle power and motor assistance. With a pedelec, the motor only provides support when you, the rider, are actually pedalling; this is why these are also referred to by a number of other terms such as 'power-assisted bicycle'. Because the motor on a pedelec will not assist you beyond a speed of 25 km/h, these are considered bicycles for the purposes of the law: you therefore do not need a driving licence, insurance plate or test certificate to operate one.
2. S-Pedelec
This is a pedelec, but with a motor that is of significantly higher power – one that can reach speeds of up to 45 km/h. Consequently, operating an S-pedelec is subject to certain conditions:
aged 16 or older

operator must have a driving licence (in Germany, class 'AM')

must only ride on roads or bicycle paths that are open to mopeds

helmet requirement

insurance licence plate mandatory



3. E-bike
E-bikes are, generally speaking, not electric bicycles but may be classified as either mopeds or light motorbikes, depending on the power of the motor. This is because these bicycles can reach a speed of more than 6 km/h with the help of the electric motor without the rider having to pedal.
E-bike – up to 25 km/h

E-bike – up to 45 km/h

E-bike over 45 km/h

moped

helmet for motorbikes

only with insurance

plate

motorbike

helmet mandatory

only with driving licence (in Germany, class 'AM') and insurance number plate

only on roads

light motorcycle

helmet mandatory

only with driving licence

class A1 or higher (in Germany)

motor vehicle tax liability

motor vehicle registration number and inspection report required
E-bikes that can exceed a speed of 45 km/h are very unusual in Germany. Nevertheless, they do exist, and if you want to use such an e-bike, it is worth knowing the operating regulations.
What do all these electric bicycles have in common?
There are many similarities in the electric bicycles of the three categories:
Driven by a motor

Battery on board

Use of motor assistance is limited to certain routes/times
What's more, in all categories, you can find a bicycle for every purpose and every need:
Electric bicycle as mountain bike for challenging terrain

Electric bicycle as city for the city and light tours on bicycle paths

Sporty model of electric bicycle as a racing bike
What's better: Mid-drive or hub motor?
Whether an electric bicycle is equipped with a front hub, rear hub, or mid-drive motor makes a difference. The type of motor most suited for you depends on your priorities for your bicycle. The following table shows the characteristics of the various types of motor at a glance:
Front hub

Rear hub

Mid-drive

on front wheel hub

virtually only available on cheapest e-bikes

negative impact

on steering

works inharmoniously

high stress on front fork

with energy recovery

on rear wheel hub

common on S-pedelecs

low wear on chain and sprocket

quiet and powerful

may make bicycle tail-heavy

with energy

recovery

at bottom bracket

puts centre of gravity in middle of bicycle

compact design

possible for all gear sets

strong pedal assist uphill

no energy recovery

high wear on sprocket and chain
Electric bicycles – FAQs
How much does a good e-bike cost?
How fast does an electric bicycle go?
What are the things I have to keep in mind when I am buying an electric bicycle?