City e-bikes
Buying a city e-bike is a worthwhile investment, especially for residents of urban areas. Supported by a rechargeable battery, you can easily cover the short and medium distances of your day-to-day world with a city e-bike. And you have a wide variety of models, motor types and frame shapes to choose from. Here, we explain the advantages of a city e-bike, which functions are important, and which motor you should choose.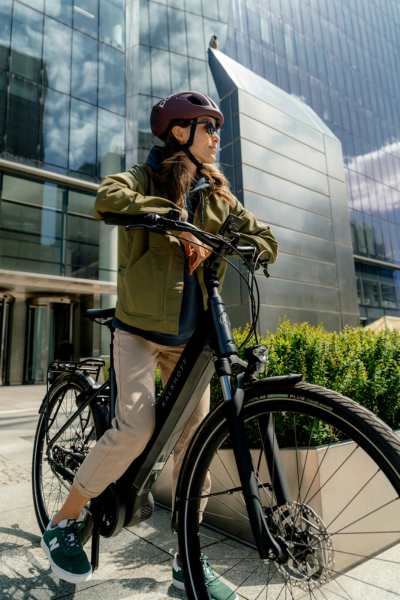 What is a city e-bike?
A city e-bike is a pedelec that is configured to be ideal for city traffic in terms of convenience, motor model, and range. With a pedal assistance of up to 25 km/h, it puts work, shopping and visits to relatives and friends within easy reach and gets you to your destination faster and more effortlessly than with a normal bicycle. Despite the fact that they are motorised, city e-bikes require no licence and can be used on all cycle paths in the city just like a normal bicycle. The upright seating position ensures comfortable riding and a clear view around you, and lets you navigate safely through the city.
Front hub motor, rear hub motor or mid-drive motor?
The type of motor you choose for your e-bike depends on a number of factors. The lowest-priced models have a front hub motor, which means that the motor is located in the front hub of the bicycle and primarily helps when starting off. One disadvantage of this configuration is that it shifts the centre of gravity of the bicycle to the front. This makes steering somewhat more difficult, and the front wheel may have a tendency to spin out in wet conditions and on bends. This is somewhat similar to the rear hub motor, which shifts the centre of gravity of the e-bike to the rear. But the rear hub motor's position also allows the motor to generate greater tractive force than other motors, and this is the type of configuration preferred by sporty riders.
With a mid-drive motor, the drive is connected to the e-bike's bottom bracket so that the centre of gravity is in the middle of the bicycle; though heavier, the feel of the bicycle is just like that of a conventional bicycle in city traffic. This makes the mid-drive motor one of the safest e-bike motors. The drive force of the mid-drive motor depends on your individual pedalling power: this motor only supports you as much as you need. The battery is protected and the mid-drive motor works highly efficiently. This makes the mid-drive motor the most suitable choice for a city e-bike.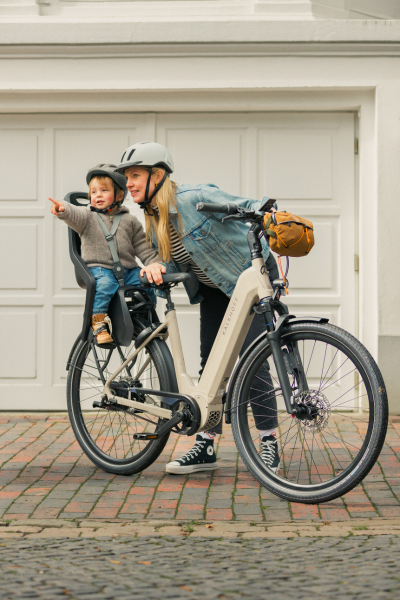 How should I configure my city e-bike?
More than anything else, a ride on a city e-bike should be one thing: comfortable. This is why most city bikes are set up with a very upright seating position. The frame size and frame shape can also play an important role. If you often ride in tight suit trousers or a dress, a frame shape with a step-through instep is something you should look for, so that you can seat yourself on the bicycle easily and comfortably. To determine the right frame size for a city e-bike, measure your inside leg length and use this formula:
Inside leg length (in cm) x 0.66 = frame size
Round off the result as needed, and you then know the right frame size for you and your city e-bike.
It is also a good idea to choose a bicycle with a pannier rack so that you can use your bicycle for shopping trips and easily transport your groceries home. In addition to a pannier rack, many e-bikes also have additional options for attaching baskets and bags.