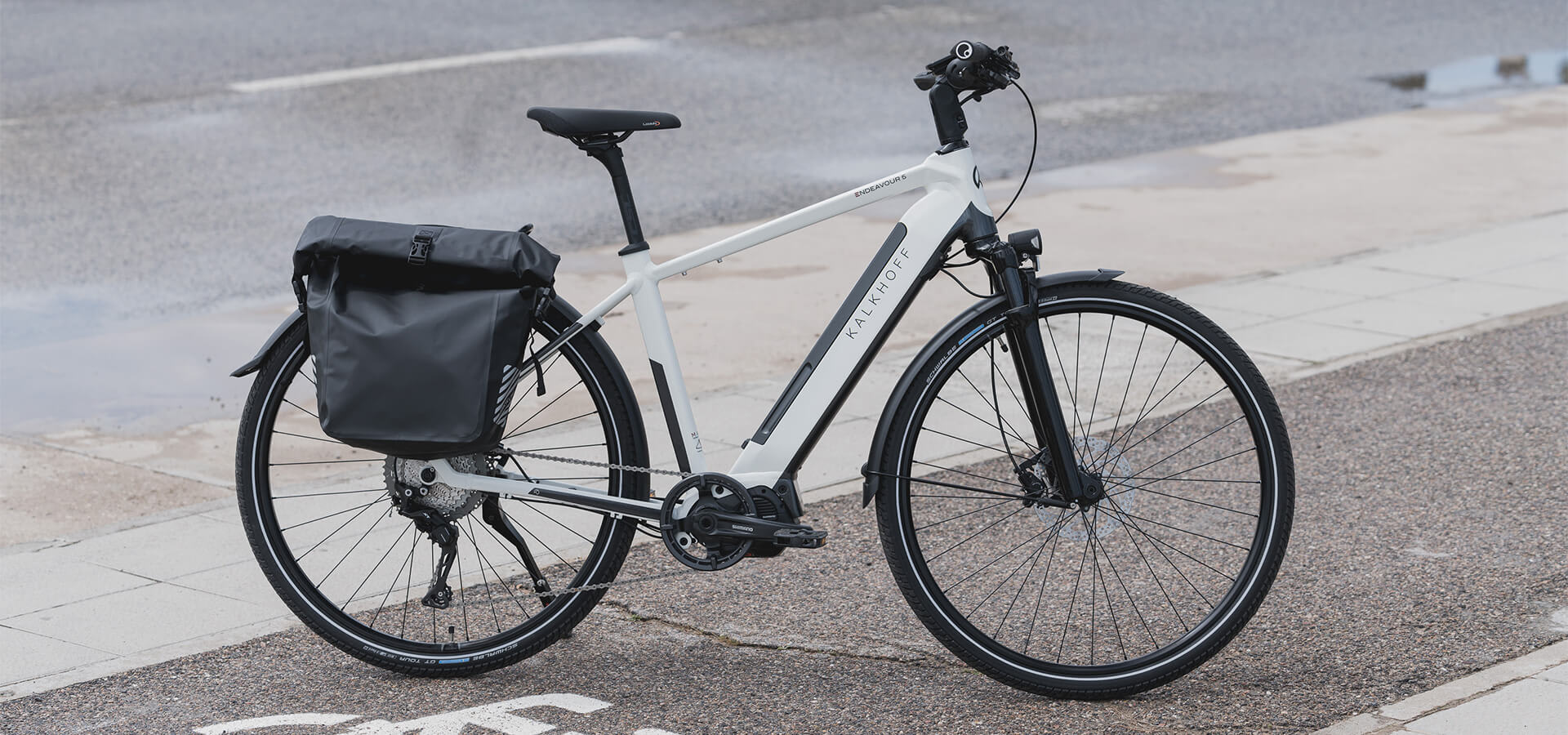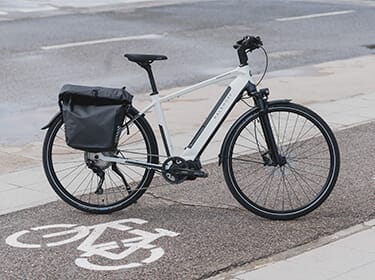 BIKES FOR STRONG CYCLISTS
When it comes to Kalkhoff 's bikes with the XXL accessory option, the name speaks for itself. They were specially designed for heavy cyclists with high muscle mass or those who are overweight. So that everyone can experience the feeling of effortless freedom in the saddle.
STABLE CONSTRUCTION
Kalkhoff's XXL bikes carry loads of up to 170 kilograms and are therefore considerably more robust than many other bikes on the market. This is made possible by an extremely stable construction and choice of materials for the frame and a well thought out selection of especially robust components. So that you are optimally equipped for any situation on the road.
MAXIMUM COMFORT
However, Kalkhoff's XXL bikes are not just particularly robust - they also offer an extremely high degree of comfort. This is made possible by an especially comfortable sitting position. The handlebars are positioned a bit higher so that you can ride in a more upright, relaxed way. In addition, our XXL models have a low entry so that getting on and off the bike is child's play.
NO LIMITS
We take our "Pure Freedom" claim seriously when it comes to Kalkhoff's XXL models too. Be it e-Trekking or e-City, in our range, you will find a wide selection of XXL bikes for every intended purpose and every terrain. So that you feel at ease and have a maximum amount of fun each time you saddle up for a cycling adventure.
Robust with added comfort.

What do the abbreviations in the product names stand for?
| | |
| --- | --- |
| XXL | permissible overall weight of 170 kg |
| 27, 8 etc. | Number of gears, e.g.: Agattu 8 = 8 gears |
| R | Backpedal |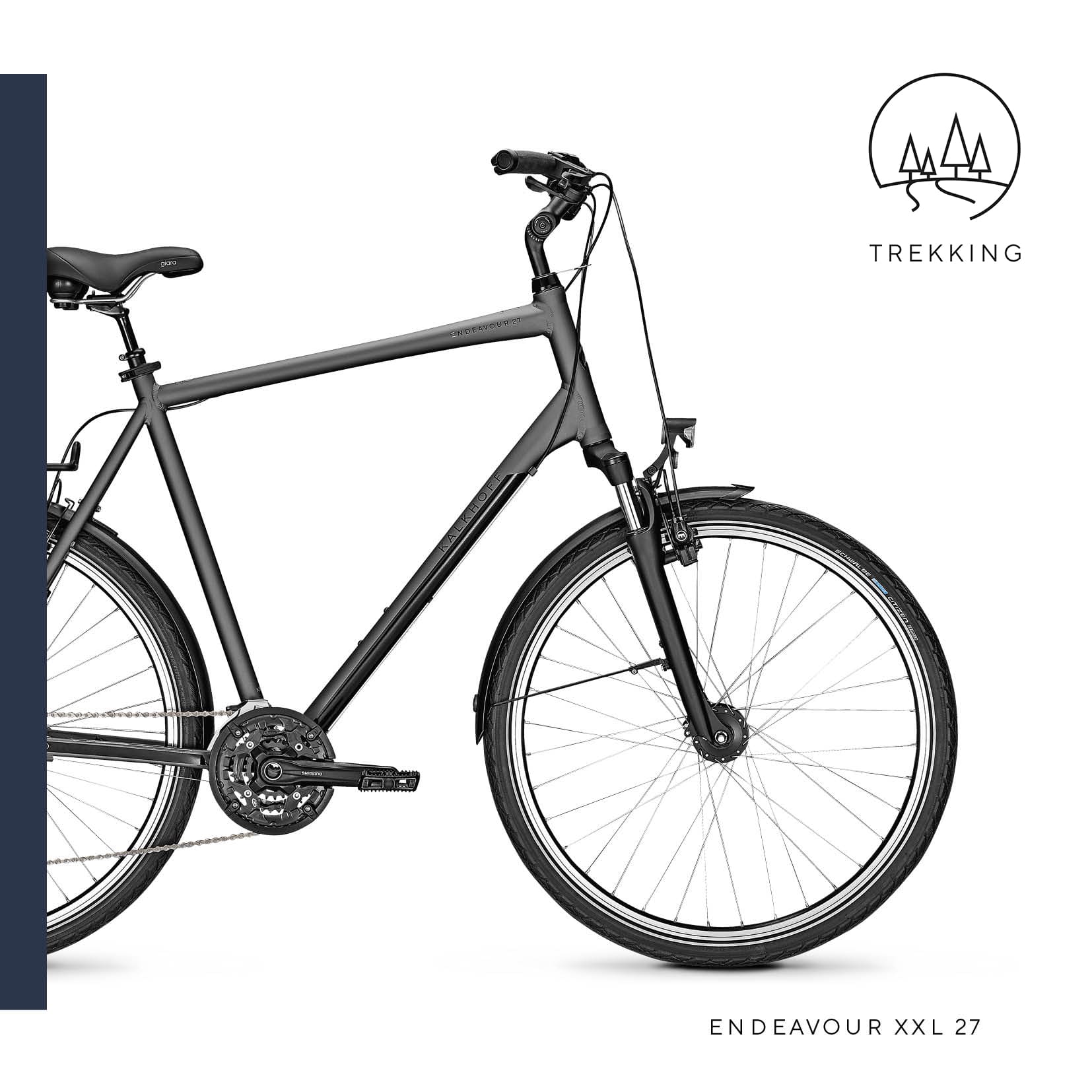 Endeavour XXL 27
Not an e-bike!

Maximum reliability concentrated into a single city bike. The Endeavour XXL 27 stands out thanks to its comfortable trekking geometry and robust equipment. 27 gears, hydraulic rim brakes and a high-quality pannier rack with integrated tail light ensure that you always get to your destination safely. Practical: The XXL version of this Kalkhoff Bike has been tested for total weights of 170 kg and is available in frame sizes of up to 70 cm.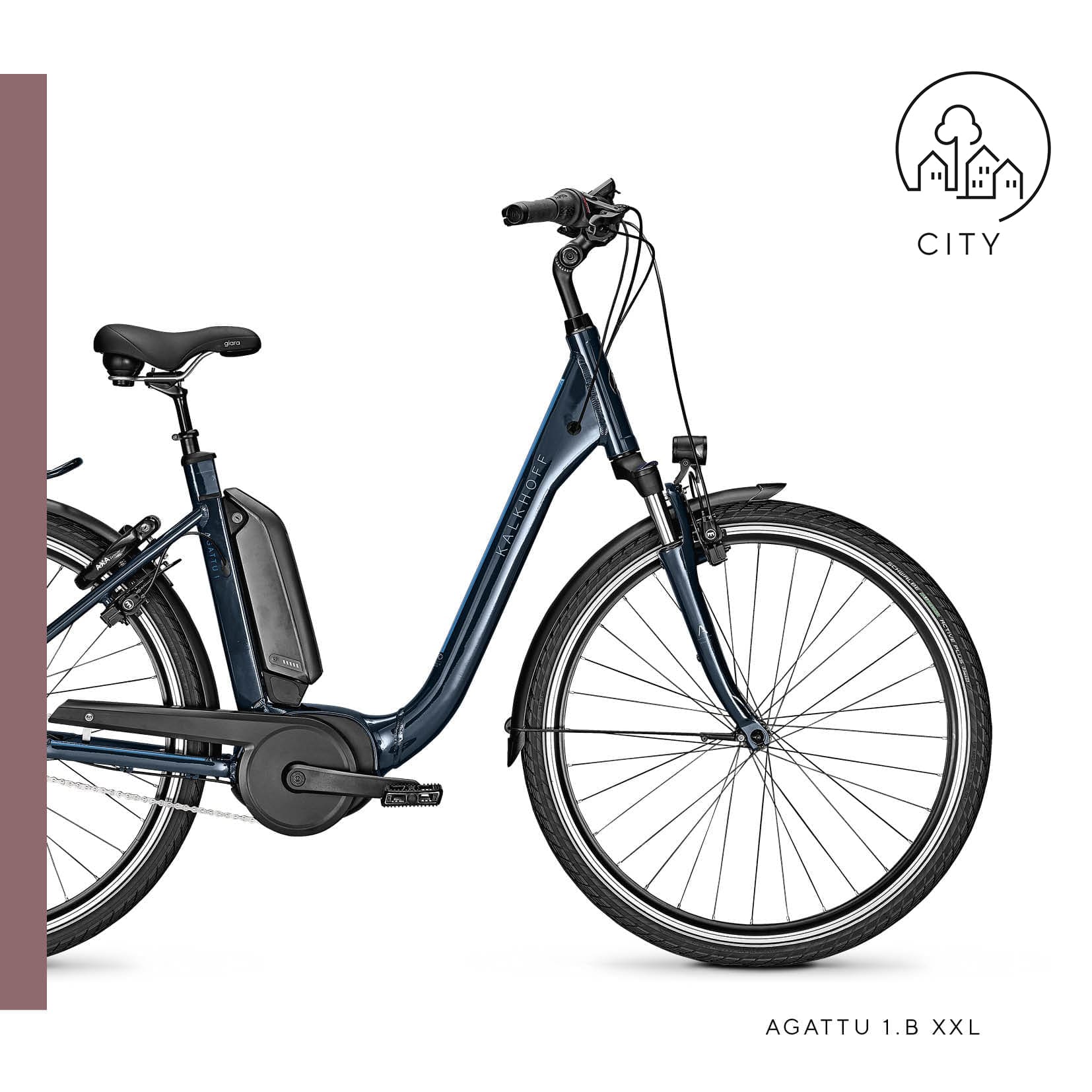 Agattu 1.B XXL
Comfortable and powerful. You can always rely on the Agattu 1.B XXL. Equipped with Bosch drive technology, this city e-bike is always a trusted partner in city traffic. But that is not all; as an XXL bike, it is approved for loads of up to 170 kg which means that, minus the weight of the bike, an additional load of 145 kg is possible. Its low step-through frame also makes it extremely comfortable. Perfect for commuters and leisure cyclists alike.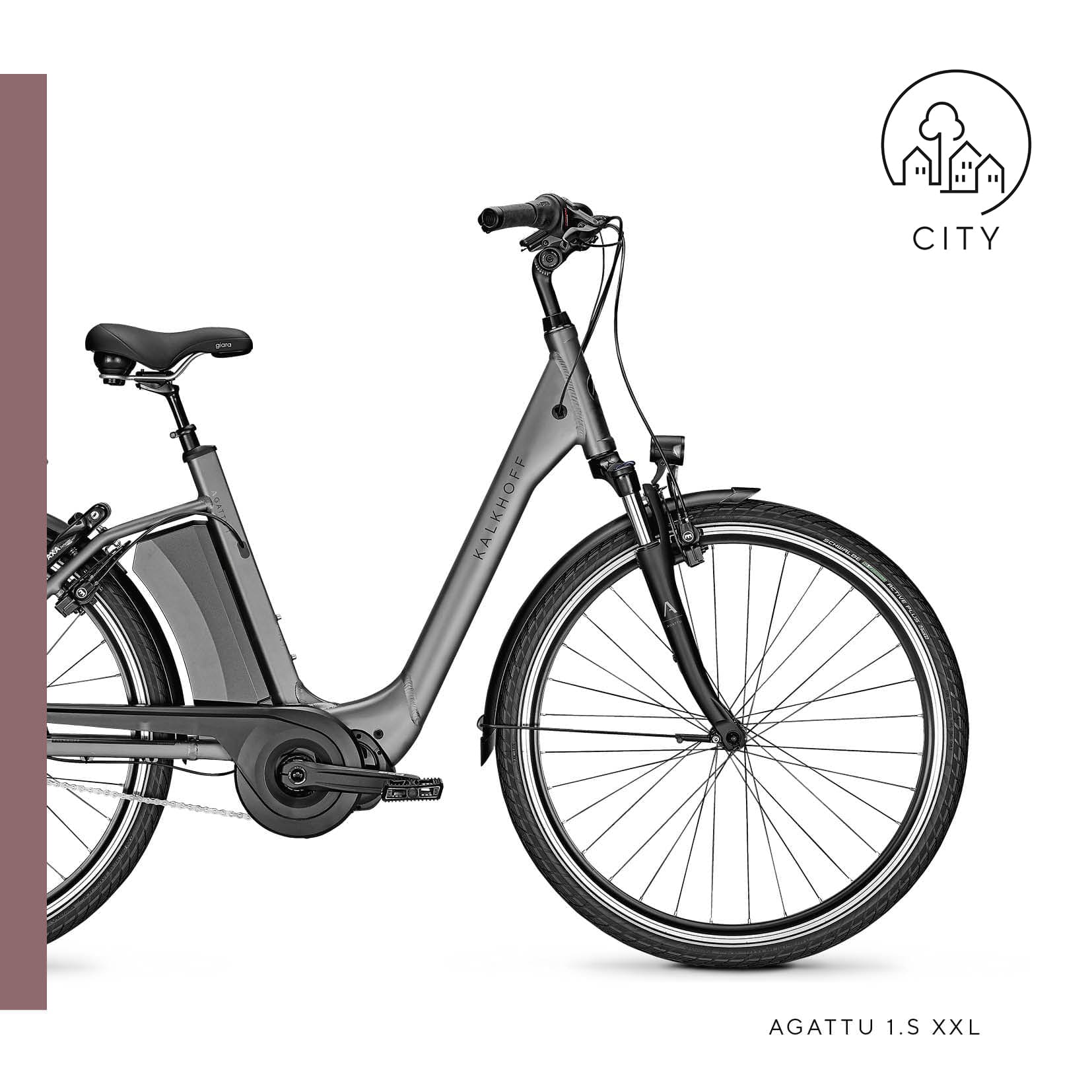 Agattu 1.S XXL
Comfortable, low-maintenance, reliable. It is authorised for a system weight of up to 170 kg and this means the Agattu 1.S XXL can cope with even the heaviest weekly shop. This is thanks, not least, to the strong and at the same time gentle Shimano E6100 drive system with 620 Wh, the puncture-resistant Schwalbe tyres and the comfort set-up with integrated pannier rack, lock and tail light. It is perfect for creating a carefree look on your daily trips through the city.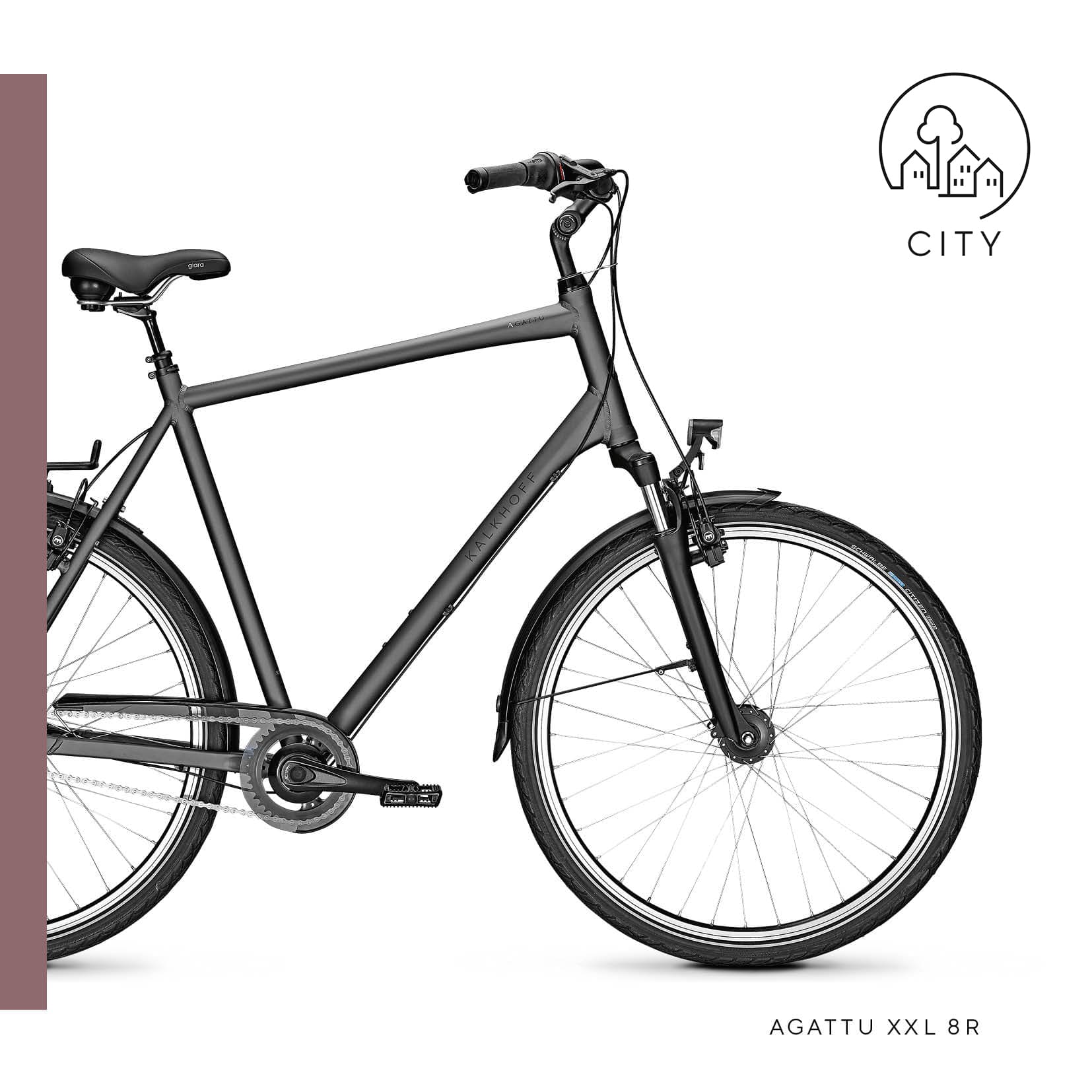 Agattu XXL 8R
Not an e-bike!

Reliable road safety in any circumstances. The Agattu XXL 8R is lovely to ride thanks to its comfort set-up. The puncture-proof tyres will bring you safely to your destination on any surface. You can rely on the hydraulic rim brakes to slow you down even in the wet and the easy-care Nexus 8 speed hub gears make changing gear noticeably easier. The XXL model is authorised for total weights of up to 170 kg and is available in frame sizes of up to 70 cm.
FAQ
How much weight can an XXL bike carry?
When should I choose an XXL bike?
In what way do XXL bikes differ from "normal" bikes?
How do I recognise an XXL bike?
Where can I test XXL bikes?
Which frame size and design will suit me?
What warranty rights do I have?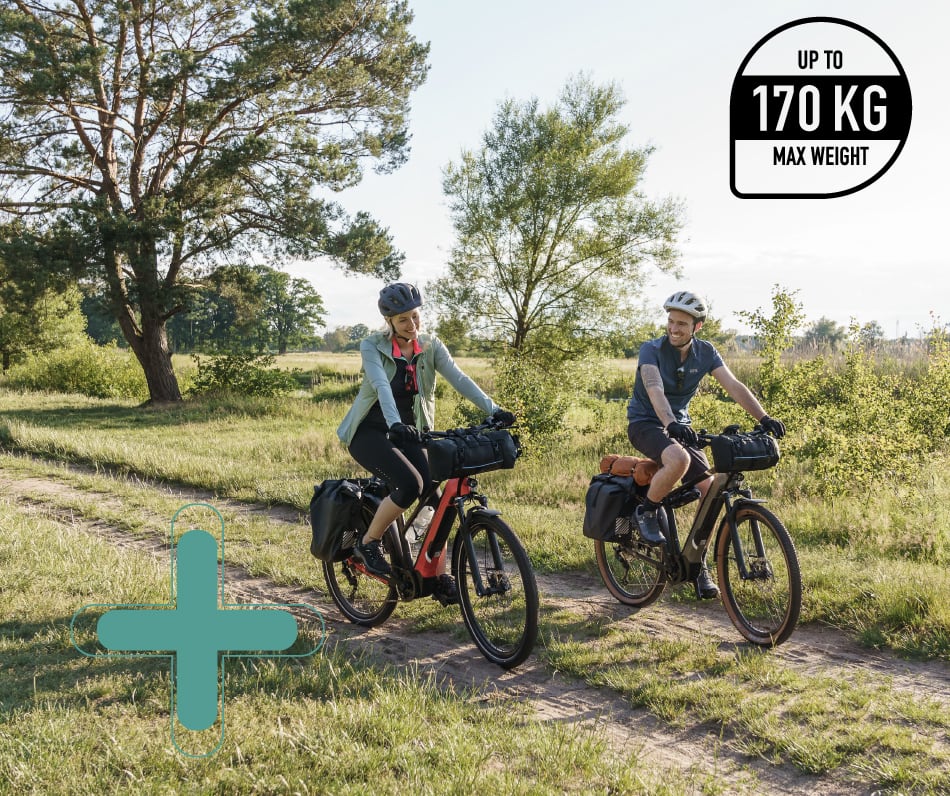 THE NEW PLUS+ FROM KALKHOFF
With a load capacity of up to 170 kg total weight, the models in our PLUS+ series offer an ultra-high level of ride comfort on any terrain.
Here you can find the bikes