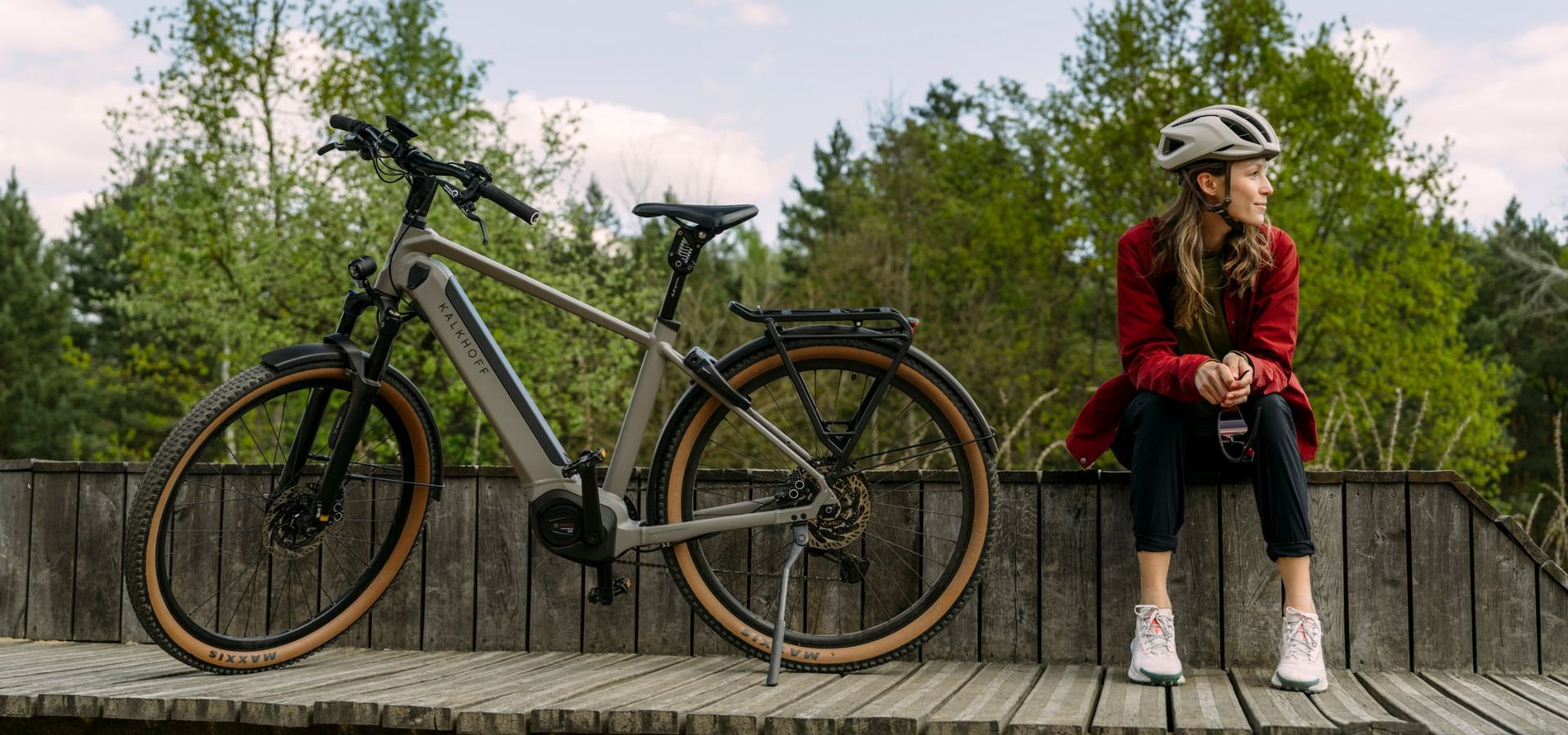 Frequently Asked Questions
GENERAL
Where can I test ride Kalkhoff bicycles?
Can I order my bike direct from Kalkhoff or purchase it on-site?
Why is Kalkhoff only available via specialist dealers?
How can I find a specialist Kalkhoff dealer?
Where can I get spare parts for my Kalkhoff bicycle?
Where can I find the article number on my bicycle or e-bike?
Where do I find the frame number?
Are Kalkhoff bicycles or e-bikes produced in other countries?
How can I get in touch with Kalkhoff?
Who do I turn to if my specialist Kalkhoff dealer has gone out of business?
BICYCLES & E-BIKE
What frame shapes are there?
What frame size do I need?
What do the abbreviations Excite, Advance, Move and Belt, XXL, Pure and 45 mean in the model names?
What is the maximum weight for Kalkhoff bicycles and e-bikes?
Where can I find the weights of the bicycles and e-bikes?
Where can I find my user manual?
What do I need to bear in mind when transporting an e-bike?
How should I store an e-bike during the winter?
Does Kalkhoff also sell bikes for children and teenagers?
Are helmets compulsory for e-bikes with assistance up to 25 km/h?
What is the maximum weight that the saddle pins can carry?
Can I configure a Kalkhoff bike to my own specifications?
Can I ride my bicycle/e-bike under the influence of alcohol?
BATTERY
How far can I get on my battery charge?
Do I need to run down the battery completely before I charge it up again?
How do I charge my battery?
Can the battery be removed from the frame?
I would like to remove my battery. Is there a battery cover/transport protector available?
ACCESSOIRES
Is my e-bike suitable for the use of a child seat?
Can I order a touch-up pen for my Kalkhoff bike?
FINANCING & INSURANCE
How can I lease a Kalkhoff e-bike?
What are the advantages of e-bike leasing?
XXL-BIKES
How much weight can an XXL bike carry?
When should I be riding an XXL bike?
How does an XXL bike differ from a "normal" bike?
How will I know if it is an XXL bike?
Where can I test XXL bikes?
Which frame size and design will suit me?
What warranty rights do I have?
TESTIVAL EVENT
What's the difference between a Testival Truck and a Testival Trailer?
What can you expect at a Testival?
What e-bikes will be on the Testival Truck?
How does a Testival work?
Will there also be XXL bikes at the Testival?
Can I also test speed pedelecs (45 km/h)?
Will there be the chance to test an e-bike with the belt drive system?
Can I also test normal bicycles?
How much does it cost to attend a Testival?
Where can I find a Testival near me?
What should I do if I'm not free on the day of the Testival?