Transporting an e-bike
Moving house, a weekend getaway, a bicycle vacation – there are many occasions for which you might want to transport your e-bike. But unlike conventional bicycles, electric bicycles are usually not compatible with a car luggage rack. And there may also be hurdles when taking them on other means of transport, such as a train. Read on to learn about the best way to transport your e-bike.
How do you transport an e-bike?
If you want to take your e-bike on vacation and attach it to your car, a bicycle rack is the best solution. However, it is important to note that since e-bikes weigh considerably more than a bicycle, the maximum drawbar load of a conventional bicycle rack may not be sufficient for transporting the e-bike. Additionally, be aware that the frame of an e-bike is larger than you think, and larger than a regular bicycle. For this reason, electric bicycles often need a special bicycle rack for electric bicycles.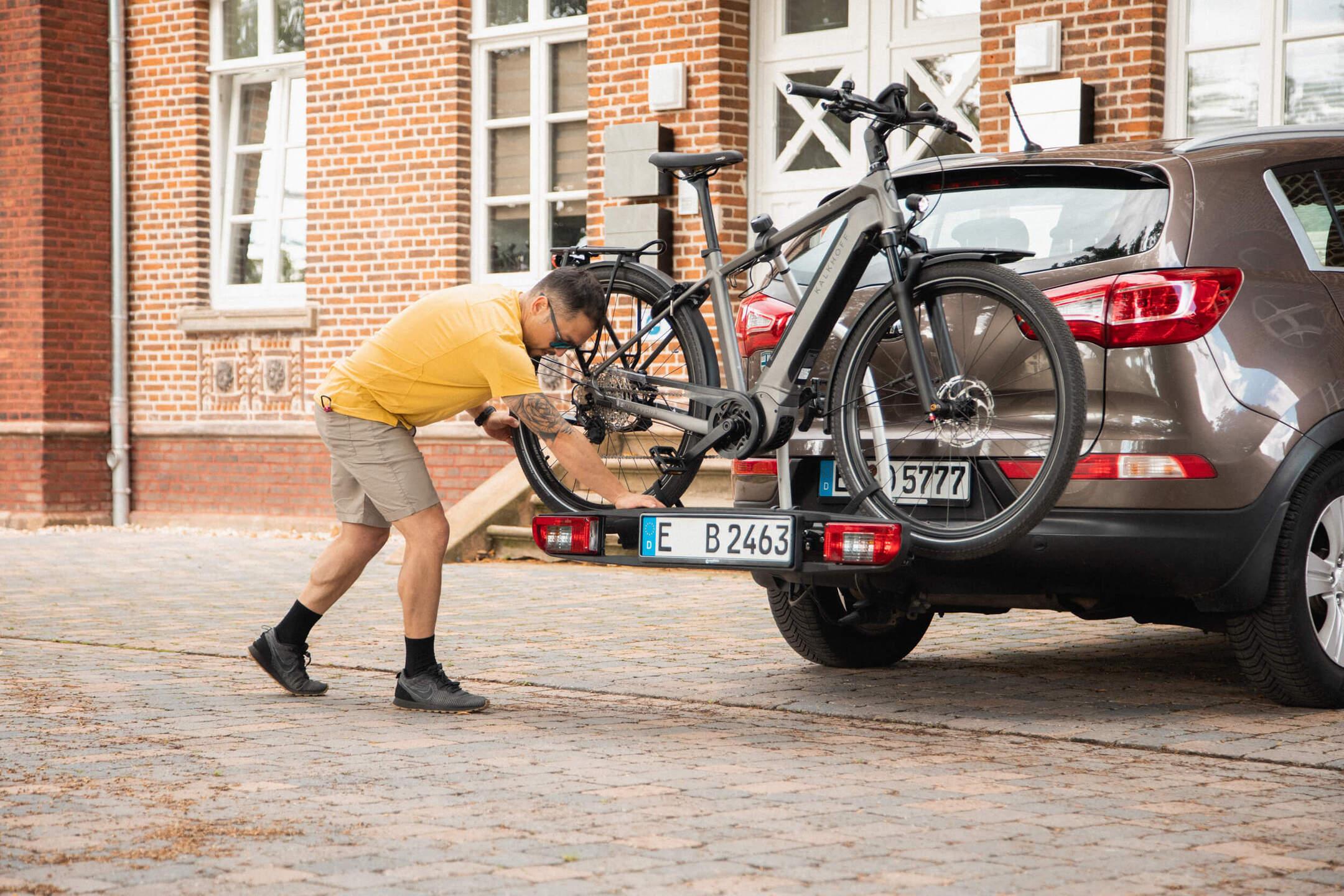 What bicycle racks are best suited for transporting e-bikes?
The safest and easiest way to transport an e-bike is on a rack behind the car, mounted on the towbar. There are even some racks for the towbar that you can fold down together with the e-bike to still easily access the contents of the boot.
Generally, transporting your e-bike on a roof rack is not recommended. For one thing, due to the bicycle's weight it will be extremely difficult to place it on top of the car. Secondly, you must consider the maximum load that the roof can bear. In many cases, this in itself will rule out transporting your e-bike on the roof.
In a pinch, you can of course take an e-bike with you in the boot of your car – that is, if your boot is big enough; this will most likely not be possible in anything smaller than a mid-sized station wagon. Also, you must be extremely careful when loading your e-bike this way so as not to damage the bicycle and car.
What are the regulations for transporting e-bikes?
There are a few rules to follow when transporting bicycles on the boot rack of a car.
Generally speaking these are:
When being transported by car, bicycles may not protrude more than 20 cm on either side of the car.

Tips, protruding edges and parts are to be removed.

According to the German Vehicle Registration Ordinance (article 10, paragraph 9(1)), the bicycle rack must be equipped with rear and brake lights as well as an official registration plate.
How do I secure my e-bike on the bicycle rack?
Some manufacturers offer practical neoprene protective covers for safety, and to protect the e-bike from dirt and damage while being transported. There are also protectors for onboard computers that cannot be removed.
To secure your e-bike on a boot rack against theft, it is best to use a bicycle lock. Some models now available also have built-in siren alarms that should scare off a would-be bicycle thief.
E-bike transport in the rain
If you need to transport an e-bike in the rain, there are a few additional things to consider:
If possible, you should remove the battery and onboard computer before setting off.

Then, place the waterproof protective covers provided with your e-bike over the motor and battery slot to keep dirt and water out of these sensitive electronic components.
What other options are there for e-bike transport?
When not travelling by car, you can also generally take your e-bike on public transport such as buses and trains. Each transport company has its own rules about this, and additional charges may apply.
E-bike transport by bus
For long-distance bus journeys, the carrier may or may not permit e-bikes to be taken. FlixBus, for example, does not allow carriage of e-bikes, with the exception of folding bicycles with electric drive, which will be transported in the luggage compartment. Many other companies do allow e-bikes to be taken along but usually have limited space available, so booking well in advance is advisable.
E-bike transport by train
Transporting an e-bike on a train is relatively easy and convenient; most train operators (including Deutsche Bahn) make no distinction between a conventional bicycle and an e-bike. This means that the conditions of carriage and the prices will be the same as for a conventional bicycle. Always observe the individual regulations of the operator in question when you take a long-distance trip with the e-bike.
E-bike transport by plane
Because lithium-ion batteries are classified as dangerous goods, most airlines refuse to carry e-bikes. There are, of course, some exceptions, but these are expensive: some airlines offer the transport of e-bikes under strict conditions and as special transport in a transport box, which requires a great deal of extra trouble. In virtually all cases, renting an e-bike at your destination will be the cheaper and easier way to go.