E-bike charging stations
If you plan to go on extended cycling tours with your e-bike, you are going to want to know about charging options along the road. However comfortable and carefree the latest electric bicycles may be, you still need a power socket from time to time. Depending on exactly what bicycle you have and how you ride, you can expect to have to make your first stop after about 40 to 125 kilometres. Learn more about e-bike charging stations here.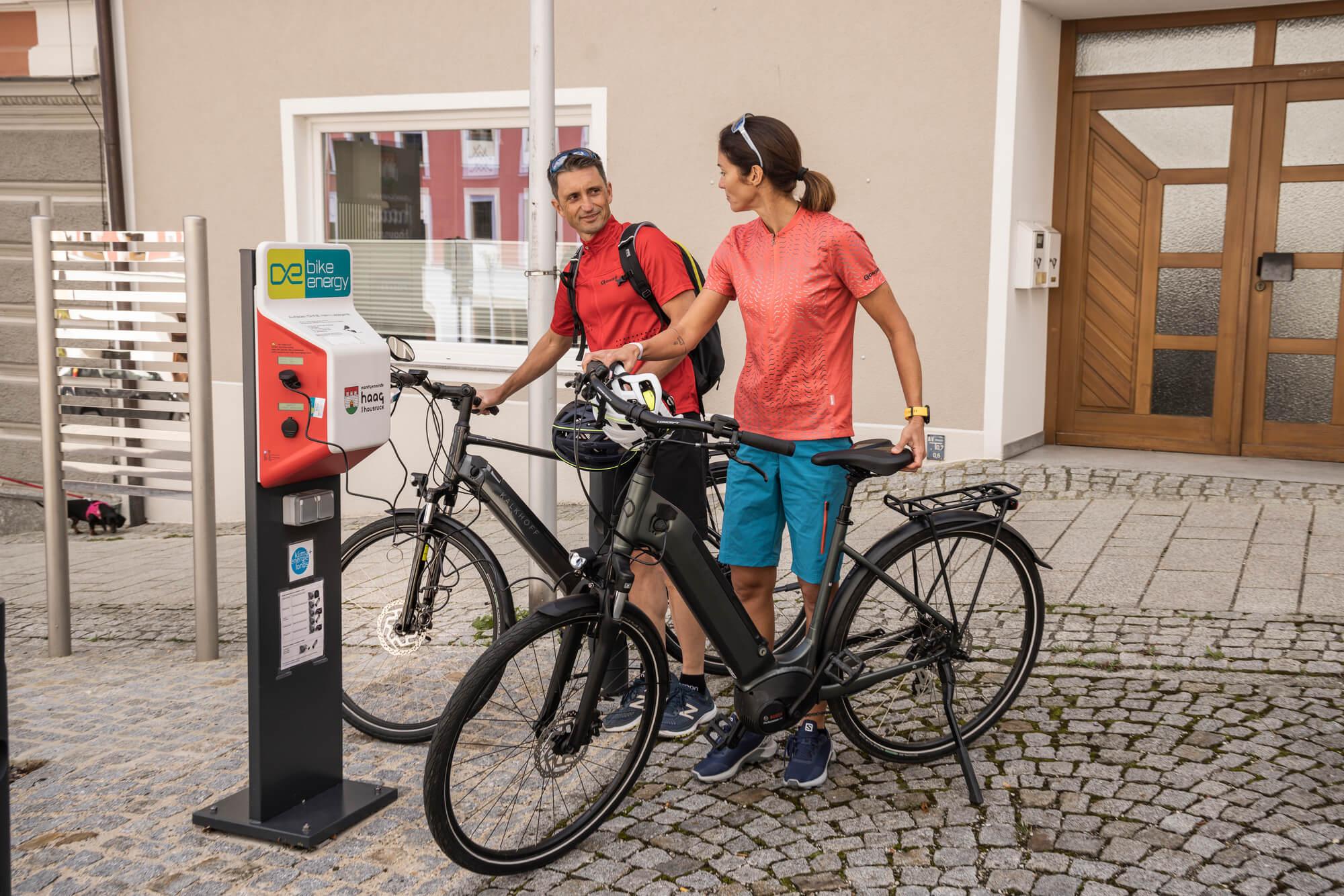 ---
What is an e-bike charging station?
Basically, an e-bike charging station is nothing more than a pedelec power socket for on the road. Since e-bikes are increasingly common on our roads and cycle paths, more and more of these electric 'filling stations' for e-bikes are springing up all over. This rollout is being pushed forward particularly hard in tourist areas. So as an e-biker, you can already charge your pedelec with electricity in many of the places where you stop to satisfy your own hunger or simply take a break from cycling.
What is the quickest way to find a charging station for my e-bike?
For the most part, the best way to find your nearest e-bike charging station is by looking online. There are a huge number of portals that will calculate all available charging stations on a route for you; the e-charging station finders from KELAG or the Next Plug app are just two examples. For people who plan their tours in advance, this is the way to go.
For people who like to plan on the go, there are of course various smartphone apps available that provide a similar service. Perhaps the most familiar example is Google Maps, which has a feature to direct you to the nearest charging station.
How do e-bike charging stations work?
Most charging stations for electric bicycles can be used just like a normal power socket. You simply park your e-bike and connect the charging cable. There are, however, also charging stations where you have to remove the battery and charge it separately.
What kinds of charging stations are there?
In Germany, Switzerland, and Austria, you will come across several different types of charging stations:
pillar charging station for e-bikes and electric cars

bicycle stand with charging station

lockers for battery with integrated socket for charging

e-bike 'filling stations' with both charger for battery and charging pillar
Who are the companies that offer charging stations?
The following providers offer facilities for charging your e-bike on the road:
SSL-Energie – Charge4Bike
SSL-Energie charging stations look like a bicycle stand with a power socket. These are equipped with Schuko sockets and can charge up to four bicycles at a time. The integrated sockets are equipped with splash protection and RCD.
RWE eBike charging station
RWE stations have space for multiple pedelecs and offer one or two integrated Schuko sockets; in many cases, this is a place where you can charge your bicycle sheltered from the weather.
Akkurad stations
At an Akkurad station, you can charge your battery with or without your bicycle. Many of these stations are equipped with lockers where you can safely lock the battery and charge it at the same time.
TERRA.bike
These charging stations are extremely environmentally friendly because they charge your battery with solar energy. Although they are still few in number, these charging stations really stand out. They are roofed, so they offer every bicycle protection from rain and offer plenty of space for parking. They also offer the option of charging your e-bike with climate-neutral electricity. And charging is absolutely free.
bike-energy
At bike-energy charging stations, you must use a special, waterproof charging cable that can either be rented at the station or purchased in advance on the internet.
Regional providers
In addition to these nationwide providers, which you can find all over Germany, many regional energy companies now also provide their own e-bike charging stations.
Note: If charging stations are not covered and do not have enclosed lockers for charging the battery, you should avoid charging outdoors in rainy weather.
What cable do I need for an e-bike charging station?
Today's e-bikes use a variety of different charging cables, and this is also reflected in the charging stations. Although most charging stations are equipped with simple Schuko sockets, there are also those that require special charging cables (see above). When you are on the road, you can use your own charging cable, buy a charging cable or use a cable from the station to charge your e-bike.
How much does it cost to charge an e-bike?
What your bicycle will cost to recharge depends on your motor. Assuming a 500-watt motor, you will pay only €0.15 for a full charge at a price of €0.30/kWh. But many charging stations provide charging absolutely free. Some electricity providers will require you to have a customer card in order to use their charging stations.
---
copyright: velontour.info