Bicycle trailers
A bicycle trailer lets you transport everything from children and pets to groceries and building materials from point A to point B by bicycle in complete comfort. There are different types of trailers for different uses.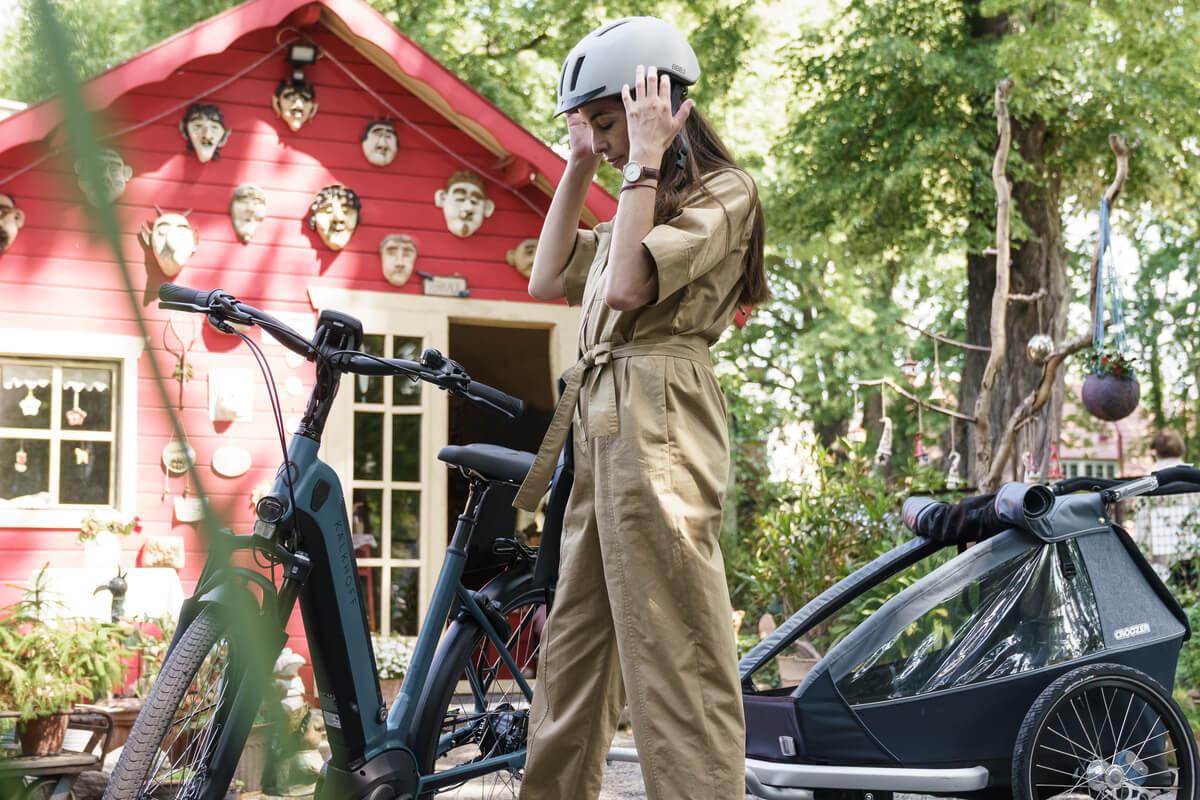 Features of bicycle trailers
A bicycle trailer makes it much easier to carry people, animals or supplies on bicycle tours. And they increase the transport capacity of your bicycle, so you can easily carry your shopping or large, bulky items. A bicycle trailer is connected securely and safely to the bicycle with an easy-to-operate coupling.
Most common bicycle trailers are distinguished by:
wheel size (generally, 16 or 20 inch)

with or without shock-absorbing system/suspension

lightweight yet robust aluminium/metal frames

waterproof and washable materials, such as cabin with rain protection and ventilation screens

different weight classes

optional equipment: reflectors, warning flag

different types of coupling
What are the differences between bicycle trailers?
Bicycle trailers are classified by their different types of use and level of quality, comfort, safety, and optional extras.
Child carrier
Trailers for children have the highest level of safety, quality, and comfort. They are generally:
one- or two-seat models

equipped with seat belt and padded bench seat

in a few cases, foldable (the Thule 1-seater, for example, can be compacted to fit in a small car's boot)

also usable as a walking or jogging stroller
When considering a bicycle trailer, look for the following quality characteristics:
The trailer should be explicitly identified as a child carrier and tested by TÜV (or other accredited body).

Bicycle trailers for children need suitable suspension, to protect the passengers against impacts and shocks.

They must ensure safety and must, in any event, be designed to keep the child from reaching out at any time during the ride.

Large tyres/wheels and a wide axle length make for a better riding experience.

A safety line on the coupling will keep the trailer connected to the bicycle even in the event that the coupling fails.
Dog carrier
Unlike a child carrier, a dog carrier usually has the entrance at the rear. It will also generally have an even, non-slip floor surface inside. There should be no harness in the trailer for the dog, but instead a safety leash that is attached to the dog's chest harness. You will find dog carriers that are:
foldable or non-foldable

with or without padding

in some cases, with a rigid box as passenger cabin

different sizes/weight classes
Cargo carrier
For cargo carriers or transport trailers for bicycles, which are used to transport groceries, garden waste, building materials, etc., safety standards are less important. These trailers come in many different designs and may be made of a variety of materials (but generally wood, plastic or metal). Other special features of cargo carriers for bicycles:
fixed or removable railing around cargo area

open-platform or with rigid or textile covering
Does the bicycle have to meet special requirements?
Connecting a transport trailer to your bicycle will have static and dynamic effects. How much of an impact these effects will have depends on the following parameters:
weight of the trailer

weight of the cargo

nature of the terrain

riding behaviour of the cyclist

Some bicycles, particularly extremely lightweight carbon-frame bicycles, are not suited for pulling a bicycle trailer. This means that it is important for you know all the particulars of your own bicycle, and how it can be used before deciding on a bicycle trailer.
Bicycle trailer on an e-bike: is it permitted?
An e-bike is approved for carrying children, dogs or loads in a bicycle trailer, but only under certain conditions:
maximum speed up to 25 km/h

cyclist must be at least 16 years old

motor power no more than 25 watt
Bicycle trailer - FAQs
How do I attach a bicycle trailer?
What are the minimum and maximum ages of children that can be transported in a child carrier?
Which bicycle trailers should I consider for my e-bike?